Katie Taylor and Cumann na mBunscol
Submitted by admin on Fri, 02/19/2021 - 21:14
Body:
A look back on Katie Taylor's Involvement with Cumann na mBunscol Chill Mhantáin by Tom Sargent, Principal, St. Fergal's NS, Bray, Co. Wicklow.
GOLD MEDAL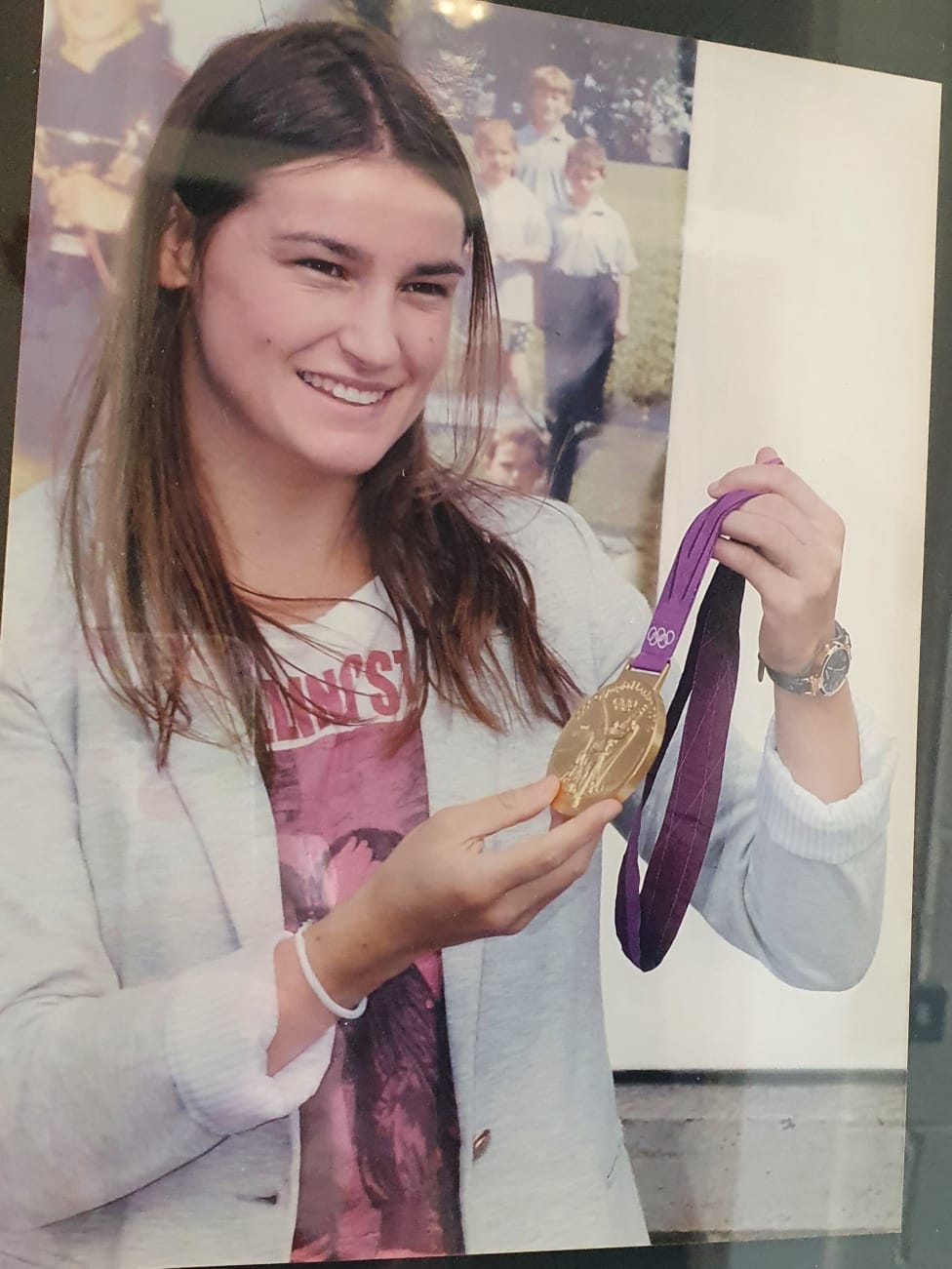 The above photograph was taken on an October day in 2012 – when Katie Taylor returned to her Primary School, St. Fergal's National School with her Olympic Gold Medal.
When you consider that Ireland has only won 9 gold medals in total in the modern Olympics, it really highlights the magnitude of her achievement. It was fitting Katie should return to St. Fergal's on that august occasion as it was there that her sporting career began. Many of the events that helped nurture her fledgling career were organised by Cumann na mBunscol.
Athletics In the 1990s St. Fergal's was two distinct schools, St. Fergal's Junior School and St. Fergal's Senior School as opposed to the merged entity that exists today. The North Wicklow Sports were always held on the grounds of Presentation College on the Putland Road. I remember distinctly preparing the children in the Junior School for the big sports day and the sense of excitement and anticipation I felt at "unleashing" this wonderful talent.
"A picture paints a thousand words"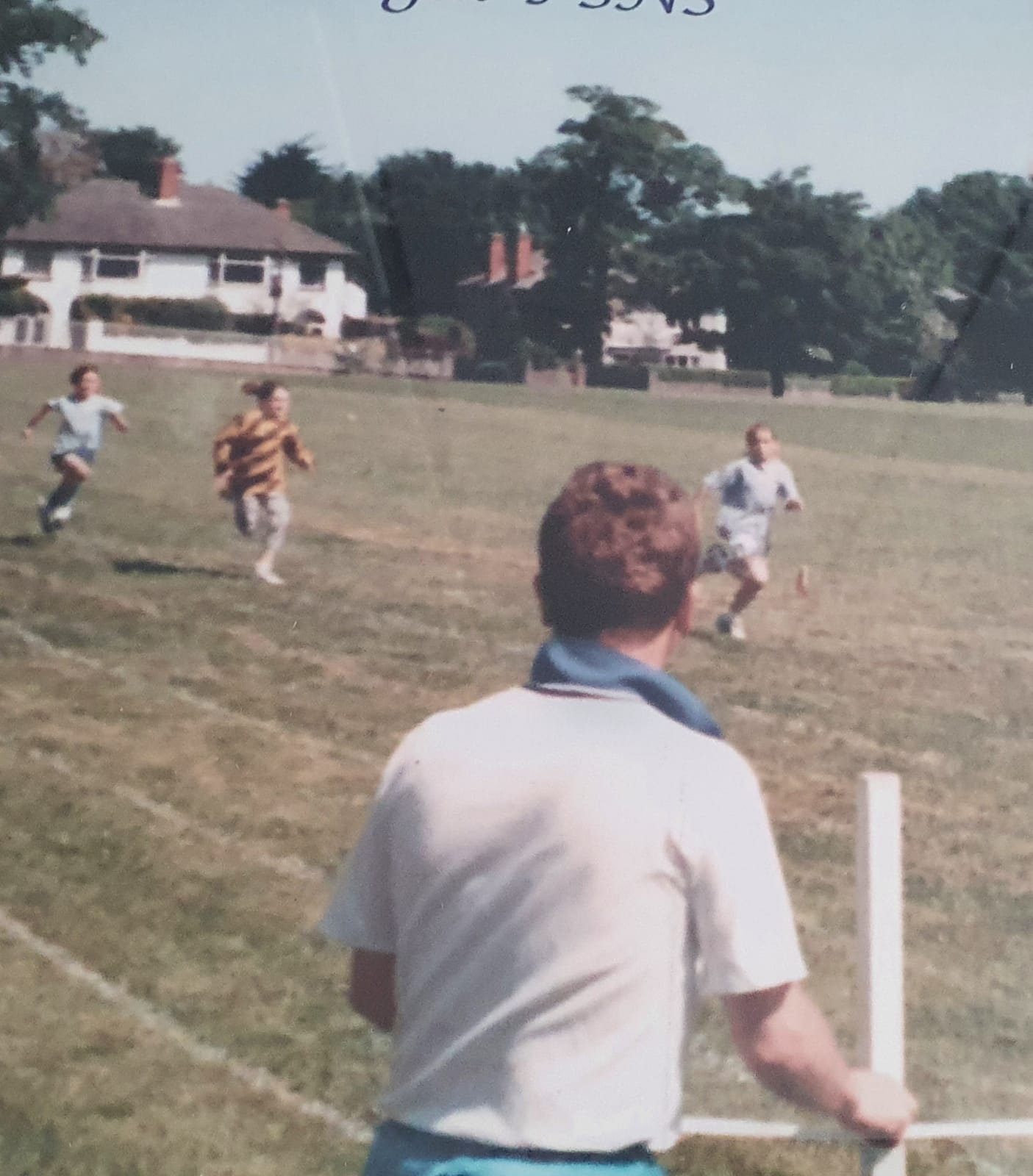 The above photograph clearly shows Katie winning her U-8 race decisively and I remember vividly calling her parents after the event and saying "she has a wonderful sporting talent, you should do something with that". They and Katie did not fail to deliver. She continued to win gold in her individual event every year, for the remainder of her time in St. Fergal's.
Another notable event that illustrated her potential outstanding athletic prowess stands out in my mind. When she transferred to the Senior School and was I think, in 4th Class (could have been 3rd) I approached the co-ordinator of the athletics there and told him that there was an outstanding athlete in 4th who he should try out for the girls relay team. He completely dismissed the idea at first, as the relay team was always chosen from the 6th Class pupils. However, after much persuasion, Katie was included in a trial for the relay team, qualifying for inclusion and was part of our successful relay team for the next 3 years.
Gaelic Games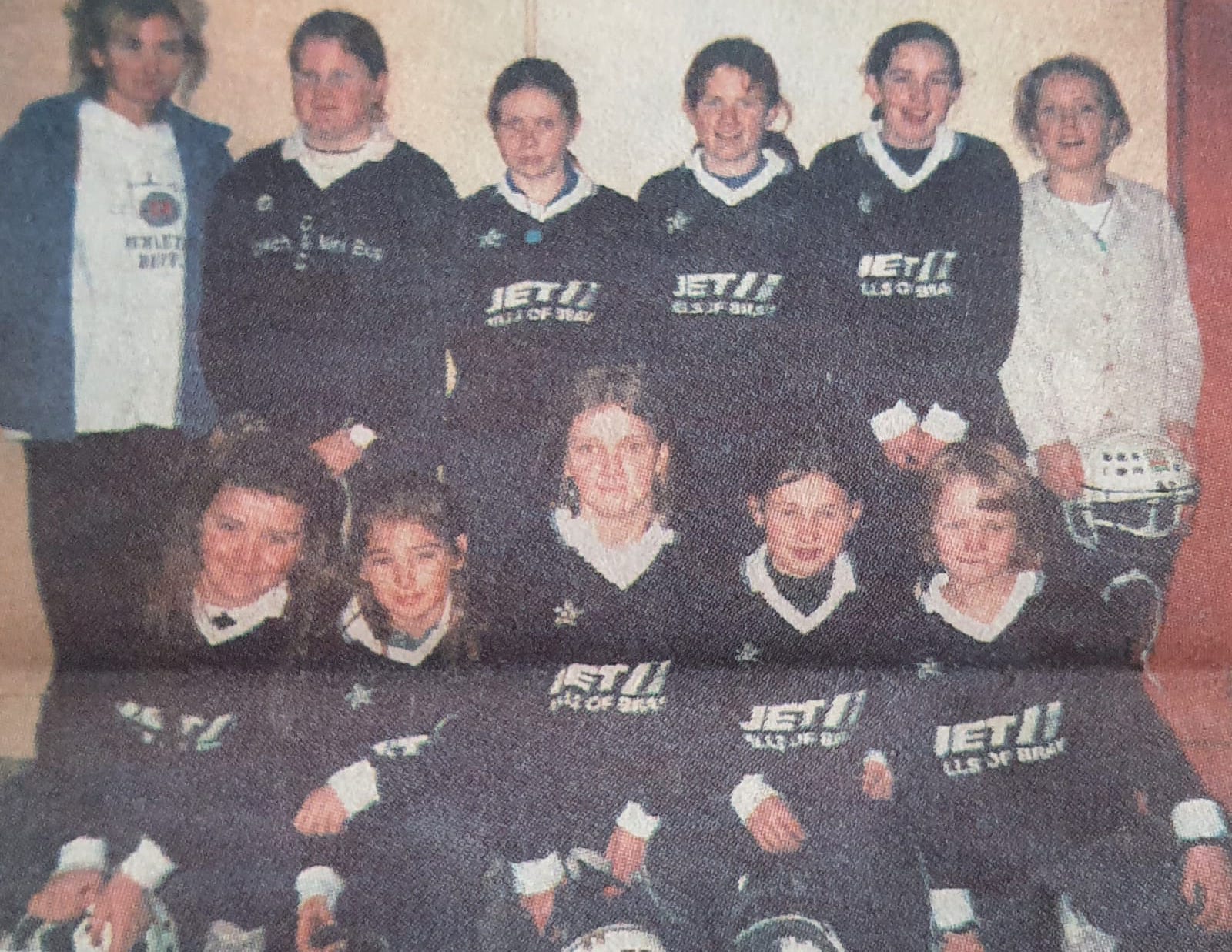 Katie was also an outstanding GAA Player. She represented St. Fergal's in hurling/camogie and in football. The above photograph is very interesting. It was taken in January 1997 and is the winning team of the first ever Indoor Hurling Blitz organised by Cumann na mBunscol. Katie is in the front row, 2nd left. There were many other victories along the way, in both hurling and football.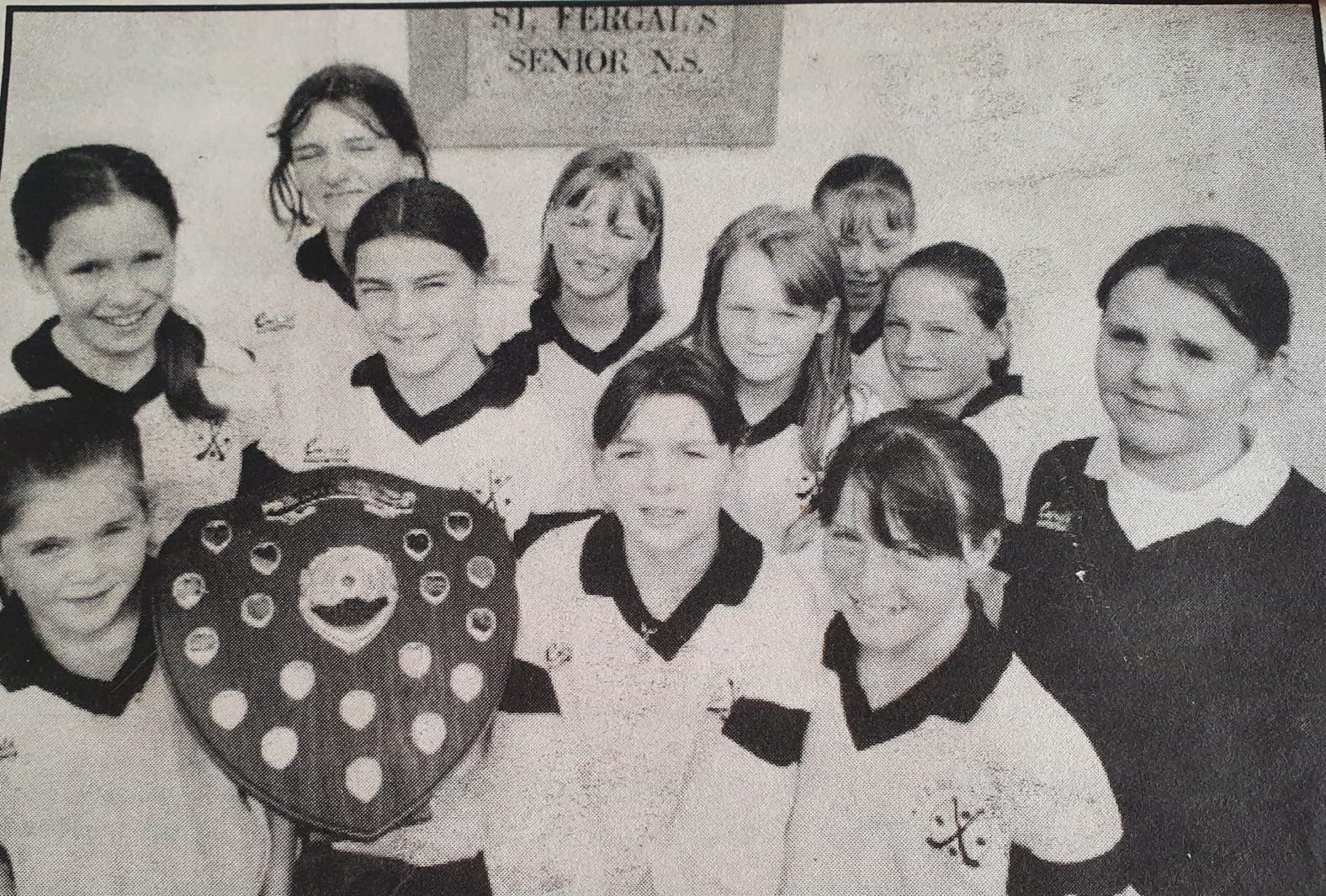 This photograph is of St. Fergal's Senior National School having won the Wicklow Times sponsored North East School Girls' Perpetual Shield held in Emmet Park in June 1999.
There are countless other examples of Katie's wonderful achievements on the running track and on Gaelic pitches while she attended primary school, too numerous to record.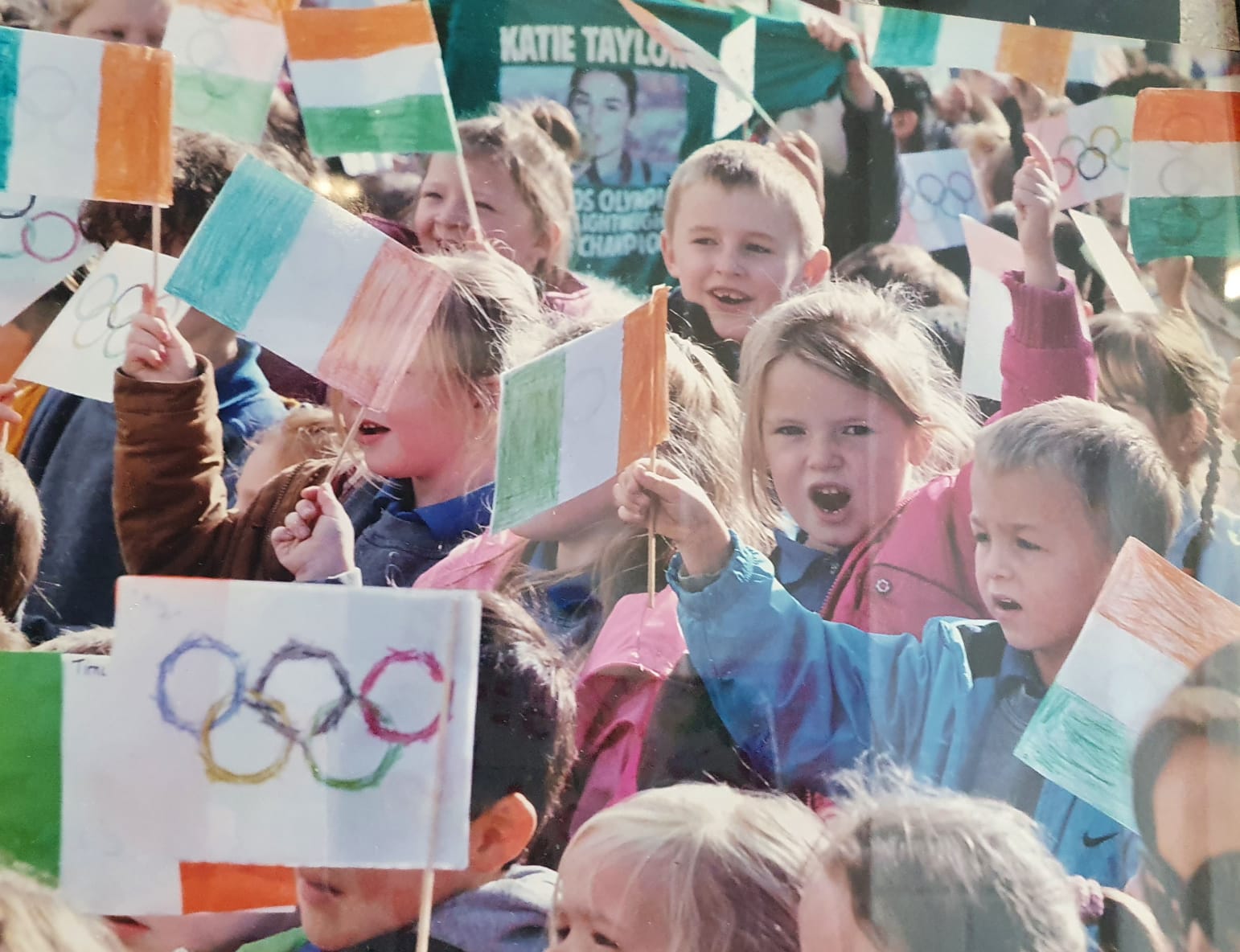 When I look back at those photographs of her visit to St. Fergal's in 2012, the gold medal and all the colour and excitement catch the eye. However, it is possibly the symbolism of the five Olympic rings that strike me most. They represent unity; of people and organisations working together, to provide opportunities and nurture talent. St. Fergal's National School and Cumann na mBunscol should be proud of the part they played in nurturing an Olympic Champion and a wonderful, modest, humble human being.
Link to all the above photos